Monumental Dedication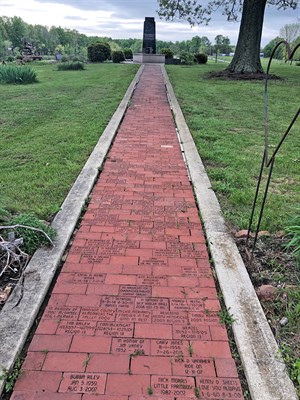 On Sunday, May 6, 2001, around one thousand motorcyclists gathered to dedicate the nation's first Motorcycle Safety Memorial in Lawrence County. The memorial, located at the entrance of the Lawrence County Recreational Park, celebrates the memory of those who have advanced motorcycle safety in the state of Indiana.
This three-year project began as a result of the tragic death of motorcycle safety instructor Mike Smith. After relating his story to students enrolled at the Muncie training site, students from several classes organized a fund-raiser. Benson Motorcycles and the Ladies of Harley Chapter #1277 held a memorial poker run which raised $2,000 in September 2000. This initial effort motivated motorcycle dealers and individuals from across the state to raise an additional $16,000.
These sponsors donated more than just money they made a commitment to their belief in motorcycle safety and to the sport of motorcycling for all Hoosiers. Many of these family-owned businesses and individuals had friends or family who have lost their lives. This project gave them, a place to celebrate the lives of lost loved ones and all riders.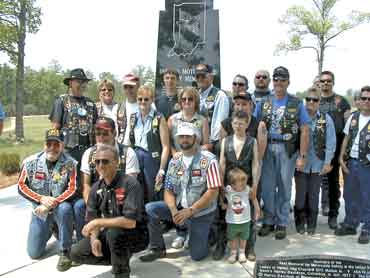 Adorning the memorial are personalized bricks that can be purchased by the motorcycling public and personalized with messages or names that will pave a path through the memorial.
The memorial stone itself was cut from the same vein of granite in India from which the Vietnam Veterans Wall in Washington, DC was made. The eight-foot-tall stone weighs over four-and-a-half tons and is etched with an American flag, a flying eagle and a road scene that snakes around three sides before fading into infinity. Wearly Monuments of Muncie personally oversaw the cutting and placing of the stone. The gleaming black stone sits atop a marbleized, illuminated base and is open 24 hours a day, 365 days a year.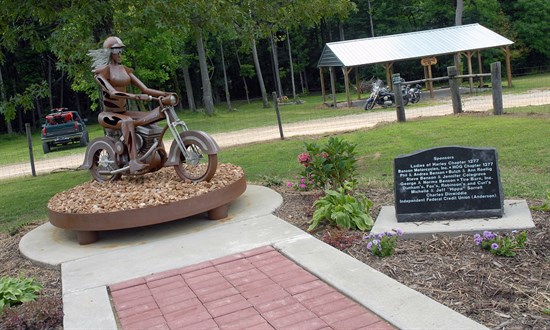 In 2006, the Indiana Women's Motorcycle Memorial was announced and after James Yaney, Ladies of Harley 1277 and HOG Chapter 1277, collected donations to commission the design by Indianapolis artists Clyde Pennington and Ryan Feeny.
We urge all motorcyclists in the state to visit this beautiful place and reflect on the values it memorializes.
GPS Coordinates: Latitude 38°59'19.59″N, Longitude 86°36'40.78″W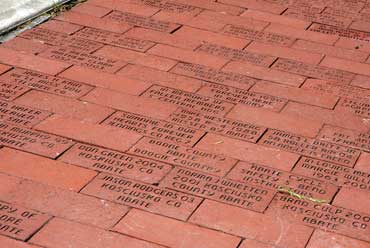 Please visit these sponsors who donated not only money, but love and care for our sport: Benson Motorcycles, Muncie; Ladies of Harley Chapter #1277; Bloomington Harley-Davidson/Buell; Gerencer's Harley-Davidson, Elkhart; Eagle Harley-Davidson, Lafayette; Mann's Harley-Davidson, Columbus; Hammond/Calumet Harley-Davidson; River City Harley-Davidson, Ft. Wayne; Southside Harley-Davidson/Buell Indianapolis; Auto Safety Glass, Muncie; Hiatt Printing, Muncie; Mid-West MC; Lewis Suzuki, Anderson; Christian Motorcyclist Association;The Mike Smith Family; ABATE of Indiana.
The deadline to order bricks each year is March 1st. To purchase a memorial brick please complete and submit this form.